Cover Letter For Carpenter Apprentice Example Template
When looking for a carpentry apprenticeship you may need to reach out and contact businesses and their owners with your CV and a covering letter. We've created a cover letter for carpenter apprentice & written helpful tips.
A covering letter is a formal letter that goes alongside your CV to explain who you are, what you're looking for and why you're sending it to their company.
The aim of a covering letter is to compliment your CV and persuade the company you are the right fit for them, with the goal of them inviting you to an interview.
We have written a cover letter for carpenter apprentice example template below to help you secure an apprenticeship. It is important to send this to as many companies in your local area as possible and do not overload it with information; it is to tempt to reader to go onto your CV with more details on your experience.
Now is a great time to look for a carpentry apprenticeship with the British government backing businesses with funding.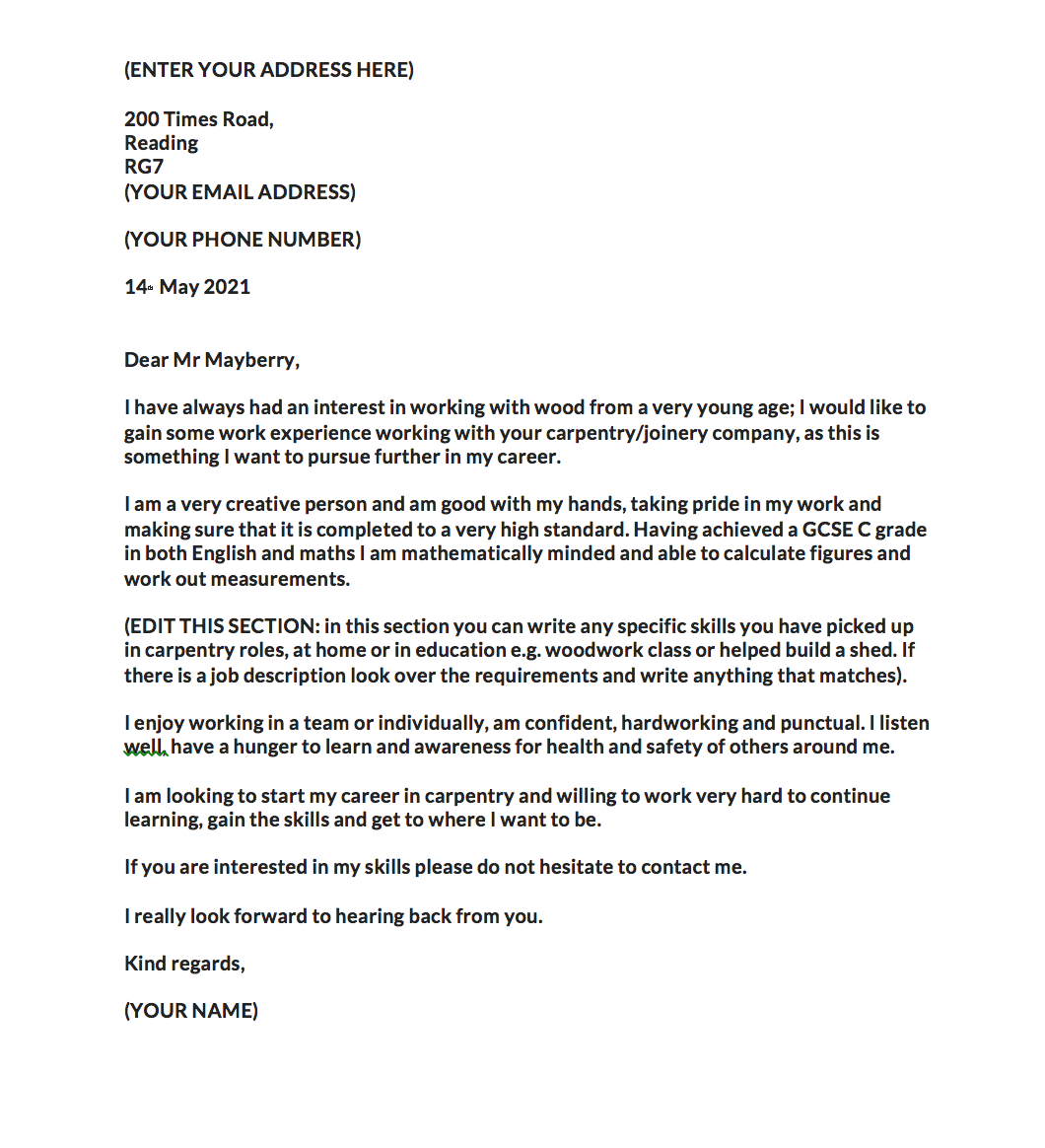 Get to the interview you desire by following our carpentry apprenticeships cover letter example template.
Carpenter Apprentice Cover Letter Tips:
Putting the most important information closer to the top
Ensure you have tailored the covering letter specifically for the role
Be honest and clear
Check spelling and grammar
If you have any relevant qualifications it is worth mentioning those on your covering letter
You could also include your hobbies and interests relevant to the role
Have someone proof read your covering letter before you send out
Research the company and its values, visit their website and get a feel for what they do and how they do it. This information is also great to use if you get an interview.
Carpentry Apprenticeships Cover Letter Example Template
(ENTER YOUR ADDRESS HERE)
200 Times Road,
Reading
RG7
(YOUR EMAIL ADDRESS)
(YOUR PHONE NUMBER)
14th May 2021
Dear Mr Mayberry,
I have always had an interest in working with wood from a very young age; I would like to gain some work experience working with your carpentry/joinery company, as this is something I want to pursue further in my career.
I am a very creative person and am good with my hands, taking pride in my work and making sure that it is completed to a very high standard. Having achieved a GCSE C grade in both English and maths I am mathematically minded and able to calculate figures and work out measurements.
(EDIT THIS SECTION: in this section you can write any specific skills you have picked up in carpentry roles, at home or in education e.g. woodwork class or helped build a shed. If there is a job description look over the requirements and write anything that matches).
I enjoy working in a team or individually, am confident, hardworking and punctual. I listen well, have a hunger to learn and awareness for health and safety of others around me.
I am looking to start my career in carpentry and willing to work very hard to continue learning, gain the skills and get to where I want to be.
If you are interested in my skills please do not hesitate to contact me.
I really look forward to hearing back from you.
Kind regards,
(YOUR NAME)