Apprenticeships Tailored To

You
We Offer A Fresh Approach To Apprenticeships
At Multi Trades Training we pride ourselves on doing things differently. We offer on-site construction apprenticeships. That means no college, saving you money. All assessments are either on-site assessed by one of our experienced assessors or taken online on a laptop, tablet or mobile phone.
Adaptable, quality, less red tape & always on hand to guide you. We've trained individuals throughout the South of England and Midlands, in the areas of Kent, Reading, London, Swindon, Southampton, Brighton, Northampton, Basingstoke, Oxford and many more.
Sound interesting? Contact our friendly team today to discuss how we can help you reach your career goals.
Less fuss, expert trainers, more time on-site and opportunity to earn money.
Ready to secure your apprenticeship training?
Mobile Training Workshop
On Site Apprenticeships
We visit you on your site with our popular mobile training workshop, meaning you do not need to attend college. All assessments are on-site and online saving you money.
With years of experience in the apprenticeship training industry we pride ourselves on reducing the fuss, leaving you to the more important things, learning your trade.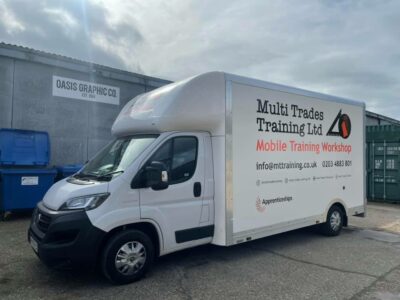 Employer Apprenticeship Useful Resources
What Is An Apprenticeship?
An agreement between you and an employer to learn a trade and further your career prospects whilst working alongside other trades people, which can take 18 months to 4 years dependent on your choice apprenticeship.
During your apprenticeship, you will learn practical skills along with the theory knowledge of how to carry out and complete required tasks in your chosen profession.
What Are The Entry Requirements?
You will need a minimum of a E grade (or equivalent) in English and maths for an intermediate apprenticeship. You will need a minimum of a C grade (or equivalent) for an advanced apprenticeship.
Is There An Age Limit To Apprenticeships?
You must be 16 years of age to start an apprenticeship, but there is no upper age limit to stop you becoming an apprentice.
Will I Have To Attend College?
No – our apprenticeships can be completed with you and your employer at your place of work and through blended online learning.
How Do I Find An Apprenticeship?
Send a CV along with a cover letter requesting apprenticeship opportunities to all your local employers (if you click here it will take you to a website where you can design your CV for free)
You can also look at the Find an Apprenticeship service website by clicking here.
What Will This Lead Too?
This will make you work ready to continue in your employment within your company.
Hold the necessary qualification to apply for a Blue Skilled Worker CSCS card to allow you to work on construction sites.
be able to progress onto a more advanced qualification if you wish to do so.
How Long Do Construction Apprenticeships Last?
The time it takes to complete a construction apprenticeship varies with the different level of training.
Intermediate Level 2 is from 12-36 months
Advanced Level 3 is a minimum of 12 months
Higher level 4/5 is from 2-4 years
How Much Do Construction Apprentices Make?
A construction apprenticeship is a great opportunity to earn whilst you learn and gain hands on experience. Wages can vary depending on the company you are employed by. Find below the national minimum wage (update from 2019).
It may also be worth taking into consideration the level of apprenticeship and location in which it is based. For example an apprentice based in London may earn more because of travel and living costs.
Age & Current Pay Rate (April 2021):
25 and over: £8.91
21-22: £8.36
18-20: £6.56
16-17: £4.62
Apprenticeship Wage 2021:
We offer on site apprenticeships training. This can save you a days pay not having to attend college. Click Here to contact us to discuss how we can help you.