A Complete Guide To Carpentry Apprenticeships
Are you interested in becoming a carpenter? Working in the construction industry can be very rewarding and an apprenticeship is a great route to take to achieve your career goals.
What is A Carpenter?
A carpenter is a skilled tradesman who's role is to cut, shape and install natural building materials like wood and timber.
A carpenter's day can vary from installing floors and furniture in new buildings, to renovating properties and refitting current structures.
With the housing market not looking like it's going to decline soon, carpenters continue to be in high demand. It's also a universal trade so if you decide to move abroad you can take your skills with you.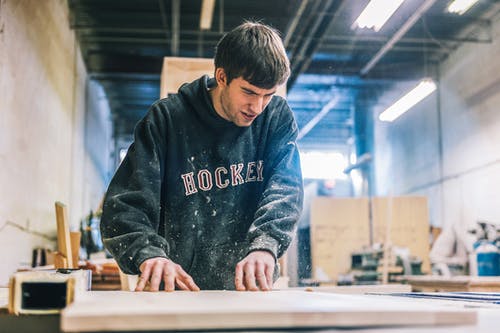 Content
How do Carpentry Apprenticeships work?
What does an apprentice carpenter do?
How will I be assessed?
How long is a carpentry apprenticeship, what are the differences, levels & requirements?
How do I get an apprenticeship in carpentry?
How much does an apprentice carpenter earn?
How much does a carpentry apprenticeship cost?
How much does a carpentry apprenticeship cost?
Am I the right age to do a carpentry apprenticeship?
How do carpentry apprenticeships work?
In a carpentry apprenticeship you learn on the job, gaining experience and getting paid at the same time. At the end of your apprenticeship you'll have the right knowledge and experience to be employed by a carpentry firm or if you decide to go self-employed, start your own business.
What does an apprentice carpenter do?
During your carpentry apprenticeship you will learn practical skills like:
How to cut shape and install building materials; carcassing and fixing floors and doors
How to work safely: tool safety, working at height etc.
How to choose, prepare and use power and hand tools; there limitations and sharpening techniques
How to abide by current rules and regulations on a building site
How will I be assessed?
Carpentry apprenticeships must take an assessment at the end of their training. This confirms they have the competencies to become a carpenter.
The training gives employers' confidence that the individual can perform tasks in this profession and ensures the health and safety of individuals around them.
The assessment can be completed in a variety of ways; like observation in the workplace, interviews, practical and written tests. You must have two assessment methods to pass e.g. interview and on-site assessments.
How long is a carpentry apprenticeship, what are the differences, levels & requirements?
The length of your carpentry apprenticeship depends on the level of training that you choose (2 or 3 carpentry). Each of which have different requirements, the higher the level the larger chance of gaining a job at the end of your apprenticeship.
Level 2 Carpentry Apprenticeship
The most popular of levels, you will learn all the skills needed to be an intermediate carpenter. This apprenticeship lasts around 18-24 months and you will need to have completed your English & maths level 1 qualification. By the end of your apprenticeship you must have acquired the level 2 English and Maths qualification (or equivalent to 4 GCSE's, which include both subjects e.g. English, maths, IT Geography C GCSE).
Level 3 Carpentry Apprenticeship
This is an advanced apprenticeship that is the equivalent to receiving two good A-level passes. It's a great route if you were looking to gain a degree or higher education in the future.
The training is 12 months long and you will require a level 2 Maths and English (equivalent of 4 GCSEs including math and English) and have passed your level 2 intermediate carpentry apprenticeship.
The level 3 will be designed to start providing you with more responsibility the more comfortable you get.
Looking for on-site & online carpentry apprenticeship and from the South-East or Midlands?
How do I get an apprenticeship in carpentry?
Firstly you will need to ensure you have the right qualifications for the level you decide to take (information in paragraphs above). Next start writing to carpenters in your local area with your desire to become an apprentice carpenter. View our free carpentry CV example by clicking here or cover letter by clicking here. Lastly source a training provider that's suits your needs.
Multi Trades Training offers on-site and online carpentry apprenticeship training so you do not need to attend college, saving you money and allowing you more time to learn on the building site.
How much does an apprentice carpenter earn?
Taking into consideration you won't be racking up debt at university and you're learning from skilled workers on the job the current average carpenter apprentice will earn £5.92 per hour and an average of £170+ per weeks.
The current minimum wage for an apprentice is £4.30 per hour however most employers offer a higher rate (current up to date rate).
Employers usually increase your hourly rate as you gain more skills and progress through the course. On top of that carpentry apprentices are paid for bank holidays and 20 days holiday per year.
After training, a carpenter with less than three years experience is expected to earn a wage of around £15,000 to £18,000 per year. Wages increase to around £30,000 with 4-10 years experience and rise to an average of £40,000 per year at 10+ years experience.
Its very common for individuals to go onto work for themselves and become self employed after training and working for employers for some years.
How much does a carpentry apprenticeship cost?
It doesn't usually cost you to take a carpentry apprenticeship, you will earn whilst you learn and your company or government will pay for training.
The government offer levies and grants to employers that help pay a percentage of your training. This is there to encourage them to take on apprenticeships and now is a great time to find one.
Am I the right age to do a carpentry apprenticeship?
To undergo a carpentry apprenticeship you need to be a minimum age of 16 years old and training is free if you are between the ages of 16 and 18.
As long as you're fit and healthy enough to do the job, there is no age limit on starting your carpentry apprenticeship at a mature age.
Click here to read more about mature apprenticeships.
Can I receive funding for my carpentry apprenticeship?
The company you work for can apply for levy and grant funding, if you're a business owner wondering whether your company can apply click here to find out more about apprenticeship funding.
Business owner looking for guidance on apprenticeships?
If you own a company and looking to take on an apprentice, MT Training offer on-site apprenticeships and can support you on all aspects like writing a contract of agreement & funding, click here to apply now. Click here to read the benefits of taking on an apprentice.