Description
CSCS Course Online
This is the Level 1 Award in Health and Safety in a Construction Environment course. The CSCS course online is the first step to get your Green CSCS Card.
This course does not include the CSCS touch screen test
The process to getting your CSCS Card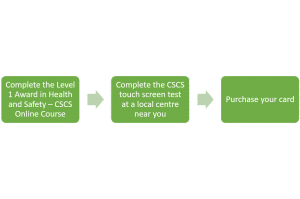 The online Assessment Process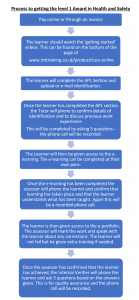 How to use the e-portfolio   
Please read the FAQ's below to help with purchasing the CSCS online course
What is the Level 1 Award in Health and Safety?
The level 1 Award in Health and Safety in a Construction Environment is essentially a one day Health and Safety course which is completely online. Once you have completed the course you can then go to a test centre near you for the CSCS exam and then apply for your card.
Is it equivalent to the 1 day course?
Yes the Level 1 Award in Health and Safety in a Construction Environment – CSCS Online Course is equivalent to the One Day Health and Safety in Construction Site Safety Plus course. It allows you to obtain your Green CSCS card once you have completed a CSCS test at a centre near you
Why do I need this course?
If you have not completed a construction qualification then you need to complete this course before you can get a CSCS card.
How does it work?
Very simple. You pay at the top of the page. Then you will be sent an e-mail later on that day with your log in details and links to either download the app or use a PC. Be sure to watch the help videos before you start using the system.
You will have 2 courses within the app. The first will be the e-learning which you will work through. This will give you the information so that you can complete the portfolio. You will then be able to answer the e-portfolio questions.
Once you have completed the questions your assessor will either pass your course or refer you back to some questions that need attention. You will not be told you have failed and you will not be asked to pay for a re-sit or re-submission.
What do I get out of it?
You get the Level 1 Award in Health and Safety in a Construction Environment certificate which is accredited by NOCN. This will allow you to get your Green CSCS Card once you have completed the CSCS test at your local test centre.
Will I get my CSCS Card after I pass this course?
No – you still need to sit the CSCS touch screen test at a local test centre to you. You can either book this through us or book it yourself on the CSCS website. However you can not get your green CSCS card without a construction related qualification at level 1 or above this is why we are offering it.
How long does it take?
The course takes as long or as short as you make it. There is no deadline, however it is a short course so should not take more than half a day.
When will I get my certificate?
We aim to get your certificate e-mailed to you within the week and your physical copy within 2.
Can you book my CSCS Test and apply for my card for me?
Yes you will be able to add these to your cart on the next page.
What are the benefits of doing it online?
You can complete this course at any time to suit you as there are no start and end dates. You also do not lose out on a days money and travel. Plus we are very competitive with our prices and with relatively low running costs can keep the prices down below our competitors.
Can anyone complete the CSCS Online course?
Yes – however you need to have an element of previous construction/ practical work experience and provide a phone number of a reference who can verify it. You will also need to provide identification in the form of a driving licence or passport. All of this is completed within the platform.
No prior experience in construction or practical work?
For those who do not have practical work experience you must choose the New Entrant option
Can I claim any money back for this course?
Yes if you are a CITB levy payer you can claim back £30 per person who sits. All we need is your levy number and company details and we will do the rest. You can also claim the tax for the remainder as training is tax efficient.
Do I need to speak and write in English?
Yes – you need to have good levels of English in order to take this course. Everyone receives a phone call to check this and to confirm identity. Please do not pay for this course if you can not speak and write in English. You can not use an interpreter.
Is there any other help available from Multi Trades Training Ltd?
Yes – all learners receive a learning phone call. This is to assist with any additional learning needed for the course and to help with the smooth running of the course.
Can other training providers use this service?
Yes – however they must agree to and follow our terms and conditions.
Frequently Asked Questions
Can You Do CSCS Test Online?
There are three steps to getting your green CSCS Card, firstly you need take a Level 1 Health & Safety Test which can be taken online, purchase the product above to complete (no webcam is needed just a phone, tablet or desktop).
Secondly you will need to complete the CSCS Health, safety & awareness course at your local test centre. Lastly you'll need to book your card, we also offer a card booking service Click Here to book your card If you have completed the other actions above.
To read more about the course click here