Benefits Of Apprenticeships For Employers In The Construction Industry
There are many benefits of apprenticeships for employers; we have put together this article to highlight the advantages and how it could help your business.
Employers may have out of date misconceptions about construction apprenticeships, for example that they take too much time & cost too much money. However with modern day apprenticeships you can receive great support from training providers, as well as various ways of training to choose from (e.g. on-site and college).
The UK construction industry is projected to rise by 12.9% in 2021 and 5.2% in 2022; there-for now is a great time to think to the future and train new individuals. The industry had a period where building sites were closed during COVID 19 causing a delay in new developments, secondly the uncertainty affected developers confidence in taking on new projects all whilst there was a shortage of materials.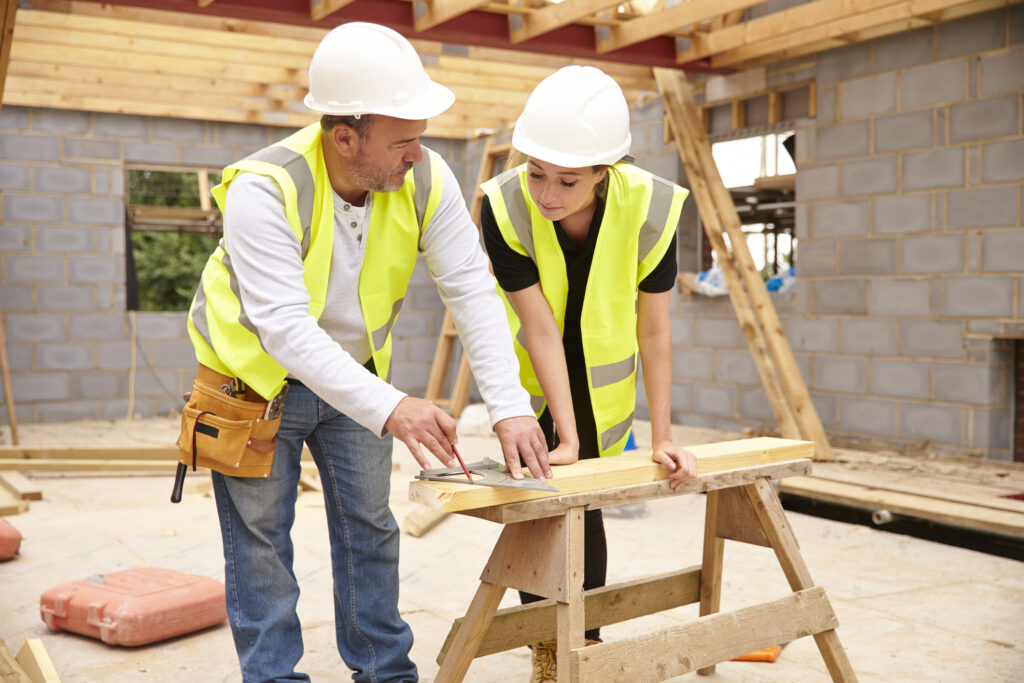 These factors have meant there has been pent up work which has affected housing prices that have risen dramatically and increased the housing crisis problem in the UK.
This means that post-pandemic the construction industry has some catching up to do and with housing prices rising more developers will be looking to start new projects.
Benefits of Apprenticeships For Employers Construction Industry
1. Create A Sustainable Talent Pipeline & Reduce Staff Turnover
Statistics show that the UK construction workforce is ageing whilst younger workers deciding to work in the industry is declining. ONS found there was a 13% increase in the number of workers aged 45 and over between 1991 and 2011. This is another great reason to take on apprentices – fixing a nationwide problem and setting your company up for the future.
Click Here for to find out more about mature apprenticeships.
2. Theory and Experience
With many challenges facing the construction industry for example competition, technology and organisational changes, recognising customer trends and acting upon them can put you ahead of competition.
With experience being of high importance, customer trends are now moving towards customers demanding focus on qualifications. This may be due to the customer having previous bad experiences, qualifications are a good benchmark to guarantee that your company understands the theory of what they're implementing. Overall qualifications bring peace of mind and confidence to the customer.
3. Company Culture & Perception
Being known to bring through new talent can improve your company image and become part of your culture. Potentially changing perceptions of your customers, shareholders or potential employees. This can be promoted through your marketing; website, social media and newsletter.
4. New Technology
New technology training will be part of your employee's apprenticeship. This can help your company and people within move with the times. For example a piece of machinery has an updated piece of technology, the apprentice can then share with the rest of the more experienced team what they have learnt; this promotes learning within your business and allows people to both teach upwards as well as downwards.
5. Spark Enthusiasm & Diversity Into Your Team
Adding apprentices into your team can bring a fresh enthusiasm and hunger which spreads throughout the company. With apprentices usually ranging from 16-25 years old, they bring an encouraging effect and dynamic to the team that is vibrant and positive.
6. An investment For The Future
Three quarters of employers say that bringing in an apprentice has helped them to save on recruitment costs, retain employees and improve loyalty. However it does take time to train and mentor these individuals, but this time can definitely reap rewards.
7. Good Training Providers Save You Time & Fuss
If it is your first time taking on a construction apprentice it can be daunting knowing what to do in certain situations. most training providers can help you each step of the way for example writing a contract of employment, advertising for your role and finding the right apprentice. This takes the pressure off and also reduces the time you spend on admin.
8. Government Funding
There is also currently very attractive government funding for businesses; they have put a focus on attracting new talent into the construction industry with no age restrictions. You can find out more on what grant and/or levy government apprenticeship funding you will be eligible for by clicking here.
We hope our benefits of apprenticeships for employers page has helped you and your company decide on whether you would like to take an apprenticeship on.
Multi Trades Training offers on-site apprenticeship training for employers and individuals in the South East & Midlands of the United Kingdom. From carpentry, plant operator, groundwork, kitchen fitting, plastering, bench joinery, cabinet making and many more, click here to view all.